SDSU Training Astronomy Research Scholars (STARS)
About
The SDSU Training Astronomy Research Scholars (STARS) program is a four-week summer program for local community college and high school students to participate in astronomy research led by faculty at San Diego State University. Scholars will gain hands-on experience with programming, the scientific process, and using powerful telescopes.
Scholars will have the opportunity to learn from and engage with professors and students in SDSU's Department of Astronomy, the only stand-alone Department of Astronomy among all California State University campuses. Active areas of research include galaxy formation, binary star systems, supernovae and more.
Mission
STARS aims to encourage students with a strong interest in science to pursue higher-education degrees in STEM fields. Students who are members of historically marginalized groups, including women, underrepresented minorities, members of the LGBTQ+ community, those with disabilities, and first generation students, are especially encouraged to apply.
While STARS will focus on astronomy-related content topics, our program will also emphasize instruction in transferable skills that are important for completing any STEM degree, including computer programming, critical thinking and problem solving, communication, and navigating academic pathways.
Learning Objectives
Gain familiarity with the tools professional astronomers use in their research
Understand how galaxies form and evolve
Create and test scientific questions
Use cutting-edge telescopes at Mount Laguna Observatory
Develop identities as scientists and astronomers
Who Should Apply?
Current high school juniors, seniors or recent high-school graduates
Community college students in their first or second year or in the process of transferring to a four-year institution
SDSU undergraduates in their first or second year
Based in San Diego area
Have reliable transportation to San Diego State University Mesa Campus (5500 Campanile Dr, San Diego, CA)
What Previous Scholars Said
"The program was really fun and I enjoyed getting to meet so many people interested in astronomy. I also really enjoyed the coding aspect of the program and getting to do really hands on practical stuff with python."
"I loved this program experience. I was able to dip my toes into astronomy research and get a feel for what I want to do with my career."
"This program was amazing. It was a great portion of my summer and I would totally recommend it to someone. If there was a part two, I would definitely sign up!"
"I felt it was a really safe learning environment for me to be able to ask any question. I have enjoyed my time meeting everyone and having a valuable and positive learning experience."
How do I apply?
Applications for the Summer 2023 program are due by March 17th. The application deadline has been extended from the original deadline of March 1.
The application requests information on your education, demographics, and interest in the STARS program. You will be asked to include the following items:
An unofficial copy of your transcript and current GPA

A personal statement describing why you are interested in participating in STARS (800 words maximum).

The name and email address of one instructor who will provide a letter of recommendation (optional)
Instructors or someone familiar with your academic or work background can submit a letter of recommendation (optional) at the link below.
Submit Letter of Recommendation
Contact
If you have any questions about the program, please contact Prof. Kate Rubin at [email protected].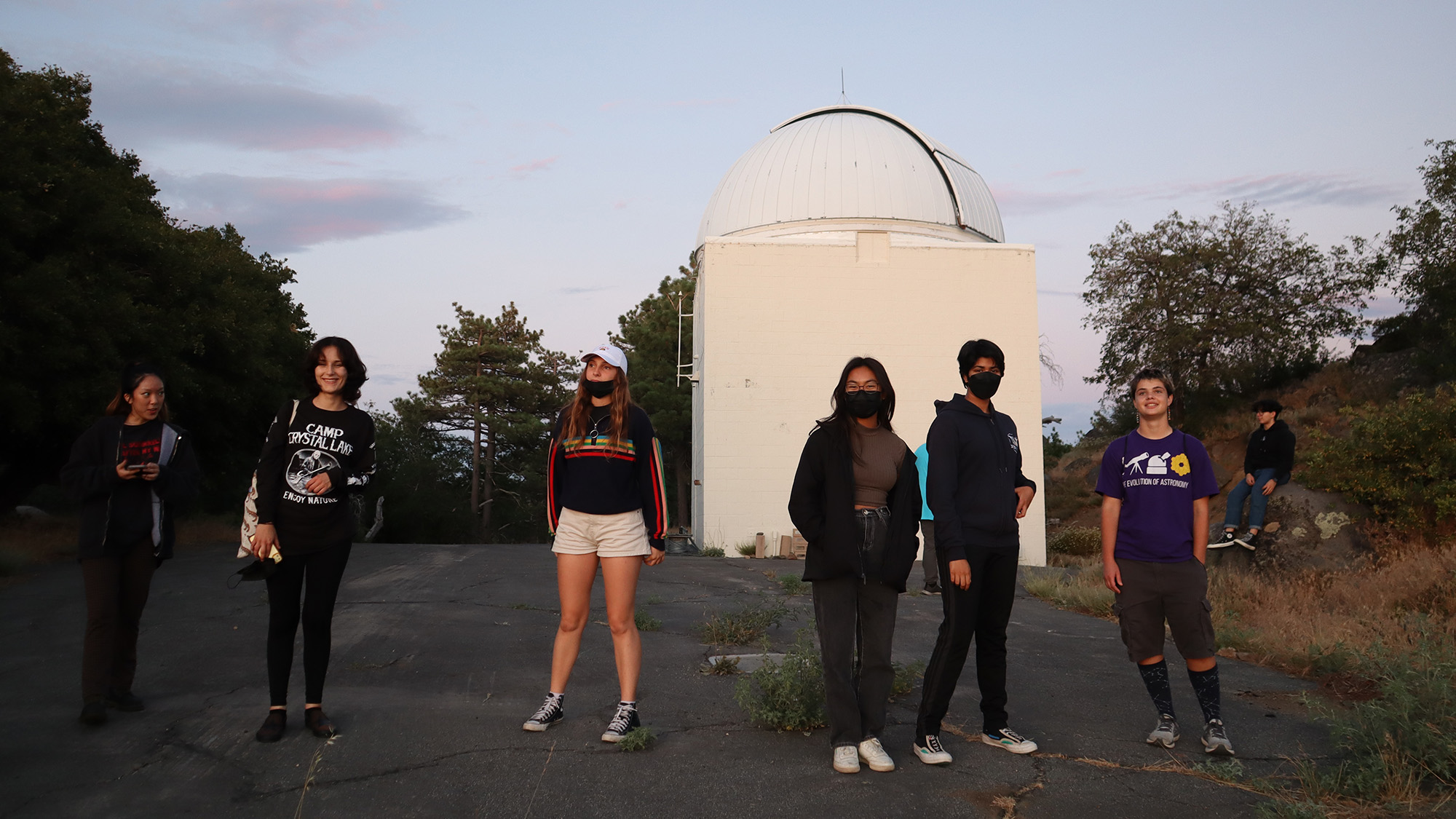 Program Details
STARS will commence on June 26, 2023 and end on July 21, 2023 and will enroll approximately 15 students. Activities will be scheduled beginning at 9am and ending at 2pm each weekday. Lunch will be provided. The program will be comprised of two two-week sessions.
Session 1 (June 26- July 7)
Interactive instruction in Python programming
Introductory astronomy topics
Data analysis
Transferable skills
Students will learn to use Marvin (https://dr16.sdss.org/marvin/) to manipulate and analyze galaxy data from the Sloan Digital Sky Survey IV (SDSS-IV). Computers will be provided for all students. This session will culminate in an evening trip to Mount Laguna Observatory, SDSU's research-grade observatory located about 70 km from the SDSU campus.
Session 2 (July 10 - July 21)
Students will work in groups of 3-4 on research projects using SDSS-IV galaxy data. Each group will have a faculty advisor. Students will design their own research questions and use the tools they learned in Session 1 to define a research project to investigate those questions. On the final day, students will present the results of their projects to each other and the instructional team.
Lead Instructor: Prof. Kate Rubin
Co-Instructors: Prof. Doug Leonard, Jerome Orosz, Robert Quimby, and Eric Sandquist
Instruction will be aided by current SDSU Astronomy M.S. students
COVID Requirements
All accepted students must show proof of vaccination (including booster) prior to arrival on SDSU's campus.